Owh yea, right now this two pieces of game is trully brought me to stay in front of my monitor & ps3 to enjoy them, arghh denk i need time for this... kindly addicted to this games.. my spirit of JPRG once again is back and possesed me ahaha, long time ago in the age of playstation one & two, im kindly into this type of video game.. JPRG ... dont know why, maybe the characters,system,gameplay,story,animated is attracted me... each game below come with their own style of gameplay, its fact that rpg/jrpg is not all gamers would like it, only certains gamers can addicted to this type of game, maybe because of the gameplay that slow and steady not as action game where you can rush,attack,slash and kill where ever you like.. ahahahah.This JRPG need us to be patient,its relax to playing... but certain time i do chaos when my character died many to time to beat a boss.. hahaha, that is regular i think, all gamers face this in their gaming life... ok enaugh said, if you are JRPG fans, dont hesitate to give a try to this two titles, u wont regret it... untill we meet again ..
_______________________________________________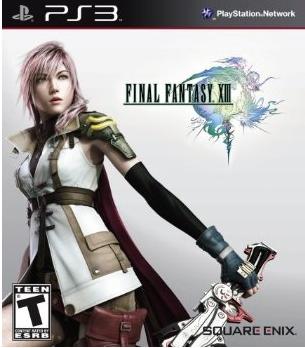 Final Fantasy XIII
​ is a console role-playing game developed and published by Square Enix and is the thirteenth installment in the Final Fantasy series. It was released for the PlayStation 3 entertainment system in Japan on December 17, 2009 and in North America and PAL regions on March 9, 2010 for PlayStation 3 and Xbox 360. First appearing at E3 2006, Final Fantasy XIII is the flagship title of the Fabula Nova Crystallis collection of Final Fantasy games and is the first game to utilize Square-Enix's Crystal Tools engine. The game features both futuristic and natural elements; it is set between a land of wilderness and the high-tech world above it. Following the story of Lightning, Square-Enix describes the theme of the game as "those who resist the world".Final Fantasy XIII was generally well received on release, with a Metacritic aggregate score of 83 for both versions.
_______________________________________________

White Knight Chronicles​
is a fantasy role-playing video game developed by Level-5 and Japan Studio and published by Sony Computer Entertainment for the PlayStation 3 which was released in Japan on December 25, 2008, and was released in North America on February 2, 2010. It is Level-5's first project for the system. As per the playable demo at the 2007 Tokyo Game Show, some enemies are extremely large in size, in one piece of concept artwork, a massive turtle-like creature is depicted carrying an entire city on its back.As of August 8, 2009, it has sold 350,000 copies in Japan. At TGS 2009, a sequel entitled White Knight Chronicles 2 was announced.